| | |
| --- | --- |
| Great Connections students analyze artwork together. | Studying Chicago architecture from the balcony of the DIRRT Environmental Solutions company. |
The Great Connections Seminar 2014
Here's What the Students Said
 "The seminar is a very special, mind-opening, immersion into the practice of using  reason and thinking well with others that challenges and excites the spirit; a  gateway experience toward attaining greater heights of mental prowess and  clarity of communication."- Sable Levy, Writer, studying for certification in  Permaculture, Crystal Lakes, NJ
"What surprised me the most was how, in one week, I could learn so much
and meet so many awesome people. I feel more passionate about whatever is  coming for me now, knowing that while I learn I will be happy and aware of what the  truth is and ways in which I can reach it." - Carmen Rodriguez Alcaron, junior, Michael Polanyi College, Universidad Francisco Marroquin, Guatemala
"The seminar is an amazing learning experience that teaches how to use reason in every aspect of your life." - Declan Campbell, Hopkington High School, Hopkington, VT
"What was most significant to me was how the seminar enabled me to express my entangled thoughts, which are even hard to explain in my mother tongue, in another language and actually do it well." - Sofi Abud, freshman, University of Buenos Aires, Argentina
 "I was very interested to meet professional  intellectuals who aren't just employed within American academia, to learn  about other possibilities. Most people are unable to discuss ideas without falling  back on bromides and prejudices, so this could be really eye opening for them and a  great opportunity to work on reading and speaking skills. I think that everyone  could grow tremendously by participating in the seminar." - Kyle Novak,  graduate student, University of Toledo, Ohio
 "This seminar's theme on free will gave me the courage to look forward with confidence, to boldly face uncertainty and feel comfortable with freedom. If I value liberty, if freedom for the individual is central to my values, there is a responsibility of action that I must accept. This seminar has shown me, once again, that it is not enough to simply believe in the ideas foundational to a free society, one must act and contribute towards producing it. I'm walking away from this seminar with a sense of duty and revived hope." - Liz Parker, B. A. Economics, George Mason University, Apprentice Facilitator, Great Connections Social Media Volunteer Coordinator
 "I found the seminar in its entirety to be both rewarding and valuable. I  learned the most from the Schiller reading; the insight provided about it by the  group was incredible, and the reading itself, although dense, was a great piece  and ripe with ideas that we were able to apply to our activities and  adventures. I wish I could convey my gratitude for the seminar experience in  its entirety." – Noelle Mandell, junior, University of Houston, Houston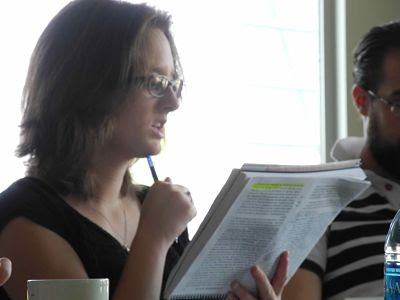 "The trips to DIRRT, Second City, and Council Oak Montessori were enlightening experiences for me. Sometimes you think you understand something, and re-examining it in a different light allows you to rid yourself of that barrier that prevents you from learning more. Then I go and see it in action. I realized that I was not as aware of my emotions and thought as I had thought." – Ivy Hood, senior, Rockford University, Rockford, IL
 "I have a more nuanced understanding of the role of the instructor and of free  will as a practice that requires effort, rather than a mere faculty that one  "has." I will be taking this expanded understandings with me into  higher education." – Brendan Moore, Apprentice Facilitator, senior, Coe  College, Cedar Rapids, IA
"I see my perception of myself has changed for the better because I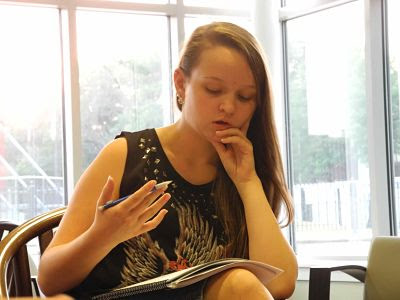 now know that I have the confidence to approach someone with a question or idea. The seminar was absolutely fantastic but a week is simply not enough." Kaitlyn Ransom, junior, Fountain-Fort Carson High School, Colorado Springs, CO
Here Are The Results
The Great Connections Seminars' impact is spreading, thanks to the support of our contributors.
Their thoughtful, active support is making it possible for us to spread not only the knowledge and skills necessary for a free society, but to give students a unique opportunity to develop and practice the virtues needed.  Among others these are—rational independence and confidence in their own judgments, self-reliance, reality-loyal honesty, and a sensitive respect towards the rights and independence of others, with an eagerness to trade and share the best within them.
These are all habits and values which are deeply embedded and implemented through our methodology as well as content. Nowhere else, no other seminar or college program, is crafted to nurture these qualities through self-directed action. Ultimately, these capabilities will enable young people to change our future.
And the proof of this is the number of students who are now working to actively support The Great Connections Seminars so more young people can have this empowering and transformational experience. Here are some of the things they're doing: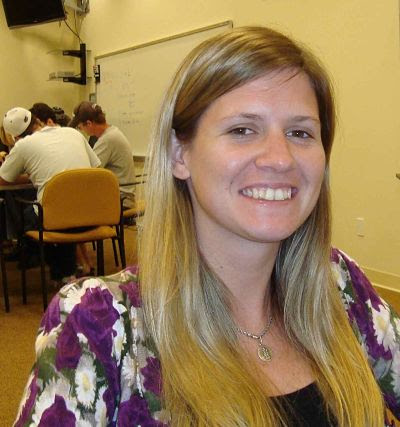 Magda Richards (right), now Development Director for Junior Achievement Argentina, worked with J.A. Argentina Director Eduardo Marty to acquire a large Templeton Foundation grant for seminars. They have asked me to train at least ten instructors in Buenos Aires. I, along with our advisor, philosopher Stephen Hicks, and these newly trained instructors, will run a 150-student week-long program next year.
Noelle Mandell (pictured above), on the Executive Board of the large and growing Students for Liberty, is so enthusiastic about the program that she has arranged for us to give "sample" seminars at five Students for Liberty conferences. This is one of the ways we're marketing the Great Connections program. We're conducting seminars on selections from Alexis deTocqueville, Carl Menger, and Ayn Rand in Dallas, Winston-Salem, New Orleans, and Chicago.
Liz Parker (pictured above), a graduate of George Mason University who has her own free lance video, photography, editing, and social media business, has volunteered as our social media coordinator. She's regularly posting news, photos, and videos about us on Facebook, Twitter, Instagram, LinkedIn and Google+. She also volunteered to lead a seminar on Menger in Gainesville and co-lead a seminar on deTocqueville in Dallas, as well as man our booth.
Sable Levy (pictured above), has set up a new, online community for us where students can meet and discuss texts of their choosing. We enjoyed our first discussions on selections from Carl Menger's Principles of Economics and Alexandra York's "The Legacy Lives" in recent weeks.
Brendan Moore and Liz Parker (pictured above), volunteered a week of their time toserve as apprentice facilitators this past summer. We're pleased, eager to grow our cadre of people capable of running seminars with our methodology.
Every student has pledged to recommend three others; we acquired 20 new names from the students while at the seminar this summer and look forward to more from former and current Great Connections students.
This summer our sixteen students ranged in age from 16 to 27; four were returnees from previous summers, eager to enjoy the seminar's benefits again. The students came from Guatemala, Ontario, New Hampshire, Illinois, Colorado, Argentina, Texas and elsewhere.  Most important for changing the future, each one reported that their personal sense of effectiveness and resolve to make a difference had substantially grown and solidified through our specially crafted curriculum and teaching methods.
They report that they found the works we studied of riveting interest and became passionately engaged in grasping these difficult texts for themselves, connecting the ideas therein with their own lives and the world; works such as:
Epictetus' "Handbook,"
Aristotle's four causes,
Rand's "The Objectivist Ethics,"
Montesquieu's "The Spirit of the Laws,"
The Declaration of Independence,
Schiller's "On the Use of Chorus in Tragedy."
It's clear the students reveled in becoming active in their own education, something most report sorely lacking in their other educational experiences.  They used the ideas from psychiatrist Ray Raad's presentation on the experimental basis of free will throughout the week as well as the skills from our Improv class ("life is improvisation") (pictured right) and the lessons on architectural history and style which culminated in a presentation on the radically innovative designs of the DIRRT Company (balcony pictured above).
I hope you've gotten a flavor of the students' experiences and the intense value they get from The Great Connections Seminar. Please let us know if you have any comments or questions.
Most students attended on scholarship and we're listing our honor roll of contributors, below. The students benefitted from the program enormously. If you contributed towards the seminar fund, I hope you're proud of the superb learning experience you have made possible.You have given them the gift of enlightenment, a chance to develop their self-confidence, and, from what they tell us, the experience of what life would be like in a free society of the future where reason, individualism, and freedom are highly respected and implemented.
Please consider contributing to the scholarship fund for 2015. You can go to our Contribute page, or send a check to "RIF Institute" 9400 S. Damen Avenue, Chicago, IL 60643. Thank you!
A huge THANK YOU to all the contributors who made our seminar possible:
 Voltaire Fellows ($5,000+)
Anonymous Foundation
Daniel Curran
Chris Rufer
 Thomas Paine Fellows ($1,000+)
Roger Baumberger
John Enright II
Warren Gibson
Mimi Gladstein – contribution dedicated to Chris Matthew Sciabarra
John & Suzanne Kannarr
James T. Kirk
Charles Koch Foundation
Jay & Sally Lapeyre
David Mayer
Steve Nahm
Marjorie Peters
Charlie Wagner
Enlightened Supporters ($500+)
William & Tamra Dale
Paul Drake
John Enright III
Lynn & Richard Latimer
Marc & Diana Pelath
Kathy Ross
Steve Shmurak
Jim Smith
Supporter ($250+)
Ken Barnes
Rob Bradley
Stan Broitman
Joel Franck, MD
Larry Gould
William Greene
Roger Hoffman
Gen LaGreca
Art & Elaine Margulis
Lisa Markham
Lucy Hair & Lawrence Rhodes
Patrick Heller
Roger Hoffman
Carol Klein
Ann Preston
Raymond Raad
Enlightened Donors ($100+)
William Adamson
Ralph Blanchette
Scott Carper
John Cersuolo
Richard Combs
Paul Concepcion, MD
John Davis
Ilana Dover
Murray Franck
Jim Henderson
Catherine Jeffrey
Merlin Jetton
Reena Kapoor & Anurag Wadehra
Carol Klein
Carol Lett
Steve Lloyd & Marge Melstrom
Joseph & Lois Parks
Mary & Patrick Peterson
Peter Reidy
Sandra Rice
Molly Sechrest
Robert Sloan
Steve Shmurak
Frederic Skelding
Robert Sloan
Jorge & Clelia Svoboda
Francisco Villalobos
Donors
Elizabeth Brierly
Jase Carns
Ann Clark
Don Hauptman
Niles Johanson
Lenora Kaposhilin (in memoriam)
Kurt Keefner
Stephen Moses
Gordon Paine
Bob Palma
Gralee Parr
Robert Peterson
Stephen Sass
Alan Yottey
Our Mission
To foster active minds:
Empowering each individual with the knowledge, reasoning skills, and independence to understand the world and build a life of adventure and creative achievement.